ПОХОЖИЕ ВИДЕОРОЛИКИ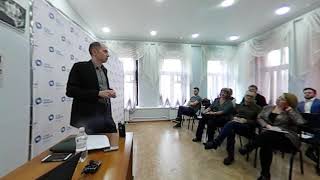 5 меc назад
Дом Журналиста #Russia #Omsk 28.04.2018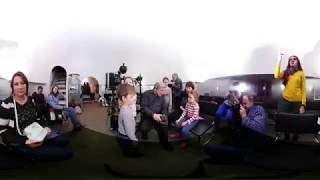 5 меc назад
День космонавтики в Омском планетарии.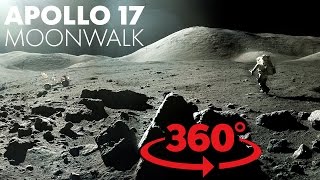 2 лет назад
From the USA TODAY NETWORK and YouTube, it's VRtually There, a weekly adventure with three cool VR experiences. Ride the world's tallest roller coaster! Maybe you love roller coasters. Maybe you'd never set foot on a roller coaster, never mind the world's tallest. Whether you're a coaster freak or fraidy cat, you've got to take a virtual ride on the Kingda Ka at Six Flags Great Adventure in Jackson Township, New Jersey. And it's not just the tallest – it's also the world's second fastest. You can almost hear your heart pounding through the screams and rushing wind as the Kingda Ka makes its insane 456-foot ascent – and plummet. Walk on the surface of the moon! It's time for a hard truth: It's probably too late to be an astronaut when you grow up. And even if you could, chances are you'd never set foot on the moon – we haven't personally visited that luminous satellite in over 40 years. So, no magical moon missions for you. But thanks to NASA and the Project Apollo Archive, now you can at least feel like you've been. In 1972, American astronauts Eugene Cernan and Jack Schmitt were the last men to land on the moon. They brought with them an American flag, some Hasselblad cameras, giddy exuberance and a great sense of humor. They took hundreds of detailed photos of the moon's surface, documenting their landing in exhausting detail. Last year, Project Apollo Archive made available over 8,400 unprocessed, high-resolution photos from that mission. We've stitched 25 of them together into an astonishing panorama that puts you on the surface of the moon! You can lose yourself for days in their Flickr feed: https://www.flickr.com/photos/projectapolloarchive Take a beautiful trip in virtual reality to Yosemite Park with Ken Burns The National Parks Service turned 100 this year, and there are few places on earth more majestic to celebrate its centennial than Yosemite National Park. You might not be able to make the trip to California's Sierra Nevada mountains, but you can still go there. And what better park guide than Ken Burns? The documentarian and director of "The National Parks: America's Best Idea" lends his voice and his insight on of the world's most magical spots, musing on the mystical nature of its beauty – and even goes so far to say Yosemite brings you closer to God. Gazing at the granite cliffs of El Capitan, you start to feel it, too. Take a breath. Take it in. And don't forget to look around! Subscribe NOW to VRtually There and never miss an episode! Be sure to check out our premiere episode, where we launch you from an aircraft carrier and take you walking on a tightrope hundreds of feet above the bottom of an Arizona canyon: https://www.youtube.com/watch?v=JkUKHj9KBgw And see our second episode here, where we take you wing-walking on a plane and skateboarding with X Games pros: https://www.youtube.com/watch?v=9TX03Pm9nO0 And our third episode, for those of you who want the thrill of skydiving without the risk to life and limb: https://www.youtube.com/watch?v=FiVB4d6cUxQ Watch USA TODAY 360 and VR videos: https://www.youtube.com/USATODAY or http://www.usatoday.com/vrstories/ DOWNLOAD our apps: http://www.usatoday.com/mobile-apps/ Read more about the series and our plans here: http://www.usatoday.com/story/tech/2016/10/20/usa-today-network-debuts-first-vr-news-show/92412428/ And here: http://www.usatoday.com/story/tech/nation-now/2016/10/20/take-off-f-18-and-balance-100-foot-cliff-vrtually-there/92450952/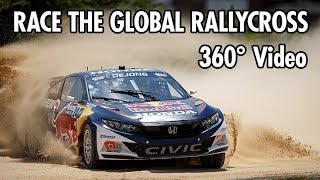 1 лет назад
► Click for more Red Bull Global Rallycross: http://win.gs/GlobalRallycross This footage was captured on a Garmin VIRB. Ride along with Red Bull Global Rallycross driver Sebastian Eriksson as he races through two laps at the Atlantic City stop of the series. Hold tight as Eriksson goes 0-60mph in under 60 seconds, racing through dirt and tarmac and hits a 70-foot jump. _ Experience the world of Red Bull Motorsports like you have never seen it before. With the best motorsport videos on the web and original series, prepare for your "stoke factor" to be at an all time high. Subscribe to Red Bull Motorsports on Youtube: https://win.gs/SubToRedBullMotorsports Get the FREE Red Bull TV apps for all your devices: http://onelink.to/yfbct7 Watch Red Bull TV: http://win.gs/WatchRBTV Check out: http://redbull.com Red Bull Motorsports on Facebook: https://win.gs/RedBullMotorsportsFacebook Red Bull Motorsports on Instagram: https://win.gs/RedBullMotorsportsInstagram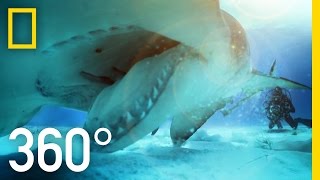 2 лет назад
Dive into this 360° video and go face to face with a curious great hammerhead shark. ➡ Subscribe: http://bit.ly/NatGeoSubscribe About National Geographic: National Geographic is the world's premium destination for science, exploration, and adventure. Through their world-class scientists, photographers, journalists, and filmmakers, Nat Geo gets you closer to the stories that matter and past the edge of what's possible. Get More National Geographic: Official Site: http://bit.ly/NatGeoOfficialSite Facebook: http://bit.ly/FBNatGeo Twitter: http://bit.ly/NatGeoTwitter Instagram: http://bit.ly/NatGeoInsta National Geographic VR takes you face to face with a curious Great Hammer-headShark. Produced by BLACK DOT FILMS VR for National Geographic Partners. © 2016 National Geographic Partners, LLC. All Rights Reserved. 360° Great Hammerhead Shark Encounter | National Geographic https://youtu.be/rG4jSz_2HDY National Geographic https://www.youtube.com/natgeo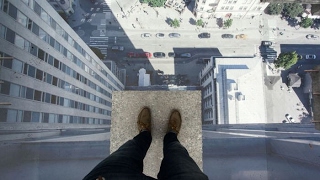 2 лет назад
А ты сможешь пройти по доске с одного небоскреба до другого. https://vk.com/vrclub_skt
1 лет назад
Мой паблик ВК: https://vk.com/rektor_riper Прошлая битва: https://www.youtube.com/watch?v=u1LiFfewkfw Мод Mo'Creatures (1.8): https://drive.google.com/file/d/0By45cGb5QVDlU0VuZXFDZVBoVGM/view Мод LotOMobs (1.8): https://drive.google.com/file/d/0By45cGb5QVDldV9TMmt0cXB6bzA/view А какую битву 360° хотел бы увидеть ты? Что ещё 360° мне снять в Майнкрафте? Какие ещё есть крутые моды на мобов? Напиши в коментарии!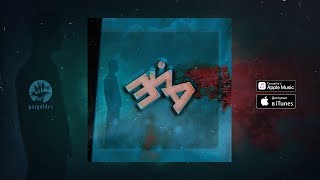 4 меc назад
20 октября | Москва | клуб RED Начало в 20:00 Билеты уже в продаже: http://bit.ly/matrangredclub Загрузить в iTunes: https://apple.co/2KROWAU Послушать в Apple Music: https://apple.co/2KOhuLd Послушать в BOOM: https://vk.cc/86h4Ow Представляем дебютный альбом MATRANG – ЭЙА, выпущенный в творческом объединении Газгольдер. «Привет, мои дорогие. Прошлого нет. Сейчас балом правит секунда, которая зовется «настоящим». Это настоящее уже в ваших сердцах и оно очень хочет быть первым. Я очень люблю музыку и вас. Спасибо, что вы есть в моей музыке».